Mark Ronan, managing director and chief executive of Adairs, said the two businesses were "highly complementary" as they were "both design-centric with in-house product design and development", and the tie-up would see his company's online sales almost double.
"This acquisition creates a larger more diversified business with increased exposure to the fast-growing online channel," he said.
We see many opportunities for Adairs to add value to an already successful business.

Adairs chief executive Mark Ronan
Adairs' acquisition of Mocka will also strengthen its offerings in kids and baby furniture and provide the retailer with a significant foothold in the New Zealand market.
Mocka's integration with Adairs follows a similar pattern to Australian women's wear retailer Noni B's recent purchase of Kiwi online seller EziBuy, with both businesses pitching the acquisitions as a way to juice up their online sales.
Adairs' online sales currently make up 17 per cent of total sales, or $58.8 million in the 2019 financial year. With Mocka's integration, the business is hoping to increase that share to 30 per cent.
The acquisition is also expected to boost Adairs' earnings by around 10 per cent in the current financial year, with the company providing investors with an earnings before interest and tax (EBIT) forecast of between $52 million and $56 million.
Mocka will continue to be run independently by its existing management.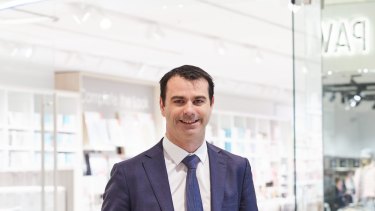 Adairs will fund the purchase through a combination of debt and the issuance of 3.2 million shares to Mocka owners. Adairs will pay 65 per cent of the amount ($49.1 million) on settlement in mid-December, of which $5.7 million will be in shares.
The remaining 35 per cent will be paid in tranches over the next two to three years, subject to Mocka's earnings and based on a notional multiplier of the acquired business' EBIT, with a minimum purchase amount of $19 million.
In total, the company expects the total purchase to cost between $85 million and $91 million.
Loading
"We see many opportunities for Adairs to add value to an already successful business," Mr Ronan said.
"Our knowledge and experience of the home market will allow us to help management further develop the Mocka brand, especially in Australia, and support the Mocka team to continue to deliver growth."
Mr Ronan also provided a brief update on the Adairs' current trading for the first half of the financial year, noting the company was "well placed" ahead of the Christmas period.
Dominic Powell writes about the retail industry for the Sydney Morning Herald and The Age.